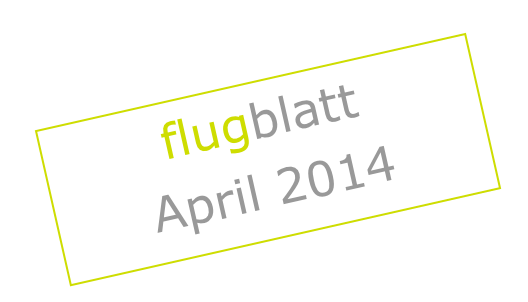 Die Themen dieses Newsletters:
1. In Kürze neu…
2. Sendetermin ZDF Terra X – Superpflanzen
3. Be a beat!
1. In Kürze neu…
Alles neu macht der Mai. Zu unserer täglichen Arbeit zählen wir das Befassen mit Neuentwicklungen, welche manchmal regelrechten Technologiesprüngen gleichen. Das hinterlässt Spuren. Ausserdem erweitern wir unser Portfolio.
Lassen Sie sich überraschen (demnächst mehr)!
2. Sendetermin ZDF Terra X – Superpflanzen
Am Ostersonntag, 20. April um 19:30, ist Fernsehzeit:
Mit "Superpflanzen" nimmt Dirk Steffens die Zuschauer mit in das Wunderreich der Pflanzen. (Quelle: terra-x.zdf.de)
Mit unserem Oktokopter unterwegs im Palmengarten Frankfurt.
(Pilot: Felix Hosenseidl, Kamera: Christian Wohlfahrt)
3. Be a beat!
Im Herbst vergangenen Jahres bekamen wir die ungewöhnliche Anfrage beim Making-Of eines Foto-Shootings mitzuwirken. Das Foto-Projekt "Be a beat!" von Thomas Temmer und Dope Skit war für alle Beteiligten eine Herausforderung.
Zwischenzeitlich sind alle entstandenen Filme online. Unser Making-Of "aerial only" ebenso wie die Produktionen von incognito-promotion. Siehe auch im Blog von Thomas Temmer.
http://flymotions.com/wp-content/uploads/2014/05/shapeimage_17.png
302
528
webmaster
http://flymotions.com/wp-content/uploads/2014/10/logo_flymotions-transparent-rand-20px-300dpi-1920x690.png
webmaster
2014-04-06 00:00:53
2014-05-28 16:42:23
Flugblatt | April 2014